Platinum Rewards Credit Card
Get Rewarded With UTF's Platinum Rewards Credit Card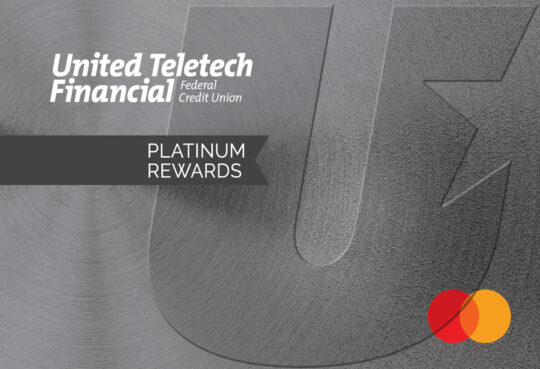 Whether you travel often or simply enjoy financial flexibility, United Teletech Financial offers a credit card to fit your lifestyle. Our Platinum Rewards Credit Card rewards you for all purchases, from your morning coffee to that weekend shopping spree. Plus, you'll enjoy the many benefits of being a credit cardholder at UTF.
New Cardholder? Check Out These Promotional Offers.
If you're considering applying for our Platinum Rewards Credit Card, now's the time. New cardholders* receive these promotional offers immediately after successful approval:
Spend $2,000 in the first 3 months and you'll receive 50,000 bonus points
0% APR on any purchase in the first six months
0% APR on balance transfers in the first six months
Get Rewarded for Every Dollar You Spend
The Platinum Rewards Credit Card offers rewards for every single dollar you spend. The more you use your credit card, the more you receive back. The best part? Rewards don't expire. Ever.
Receive one reward point for every dollar you spend, both online and in-store
Points are redeemable for cash back, travel, hotels, flights and more
Redeem your points for a wide range of gift cards for stores such as Amazon, Home Depot and more
Beyond the Rewards: Experience the Cardholder Benefits
Our Platinum Rewards card offers even more than rewards. As a cardholder, you'll receive many benefits such as:
No annual fee: We never charge cardholders an annual fee for using their credit card.
Lower interest rates: As a not-for-profit financial institution, we're able to offer lower interest rates. Forget about drowning in interest while using our card. Instead, you'll be able to stay ahead.
Free identify theft protection: Our Platinum Rewards Credit Card is a Mastercard credit card, which includes identity theft protection. You'll receive credit monitoring included through Mastercard. If your card is compromised, you'll receive notification immediately.
Apply for the UTF Platinum Rewards Credit Card Today
Ready to apply for the UTF Platinum Rewards Credit Card? Get started today by applying online. Or, for answers to your questions, give us a call at 866-462-5532.
Customer Service: 866–820–3934
For full card details including pricing, click here.