Who We Are
Your Premier Financial Partner Since 1967. Let's Get There, Together.
United Teletech Financial is a not-for-profit financial cooperative serving our members and their families since 1967. Originally chartered to serve the needs of Bell Labs employees, membership to United Teletech Financial is now open to any person who lives, works, worships, attends school or volunteers in Monmouth and Ocean counties and portions of central Middlesex County.
United Teletech Financial FCU has grown to:
38 Sponsor Companies

24,000 Members
As a financial cooperative, United Teletech Financial offers many of the same services and products as banks, with one significant difference – we're owned by our members. That means our earnings go right back to our membership in the form of better rates, fewer fees, and extra services!
UTF is proud to be a Certified Great Place to Work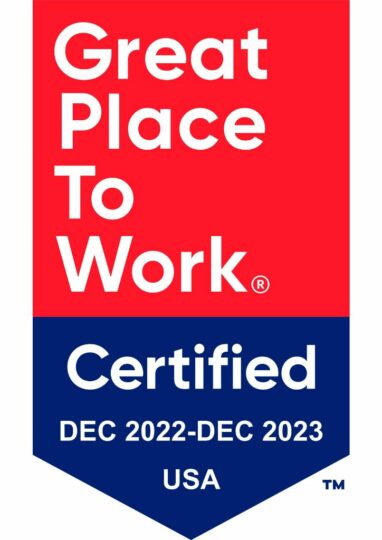 Our Values
Value: Providing all customers and team members a unique value they can't get from anyone else.
Teamwork: Creating an environment where team members willingly help each other without hesitation to deliver on our promise.
Respect: treating each other in a way we wish to be treated.
Fun: Encouraging one another to enjoy the time we spend at work.
Serving: Providing service that exceeds expectations.
Sharing: Listening, teaching and giving of oneself.
Succeeding: Striving to do better; to learn more and to help others improve.
Integrity: Exercising good judgment based on corporate and personal values.
Accountability: Taking responsibility for decisions and actions so they support our core beliefs.
Family/Self: Balancing our work and home commitments.
Team UTF at a Fulfill volunteering event

Team UTF packaging food boxes for a local food bank

Team UTF at the Fulfill headquarters (a local food bank)
Team UTF at a beach clean up event

Team UTF at a local high school discussing financial tips

Team UTF alongside one of our scholarship winners
Financial Wellness Consultations:

1475

Seminars & Webinars Offered:

52

Trusted Member Savings :

$114.4 Million

U-WIN Prize Winners:

484

Home Loans:

533

Enrich Financial Wellness Tool Users:

1536
Recap of Our 56th Annual Meeting of Members
United Teletech Financial Federal Credit Union held its 56th annual meeting of the members on Monday, April 24th, 2023 at its main office at Hance Avenue, in Tinton Falls, NJ. The meeting was also held virtually for members that could not attend in person.
Annual Elections were held and the following board members were elected to fill terms through 2026: G. Harris, M. Hou and D. Mahoney.
At the re-organization meeting held following the meeting, the following officers were elected:
M. Hou, Chair
D. Mahoney, 2nd Vice Chair
G. Harris, Secretary
A. Weingartner, Treasurer
R. Weihs was appointed to fill the unexpired term left vacant by the passing of our recent Board Chair, R. Kluin. R. Dowd and R. Hodges also hold director positions on our board.
C. Coari, B. Hodges and K. Wandras were appointed to the Supervisory Committee. K. Wandras was named Chair of the Committee.
A copy of the annual report can be found here.